John D. McLaughlin, Jr.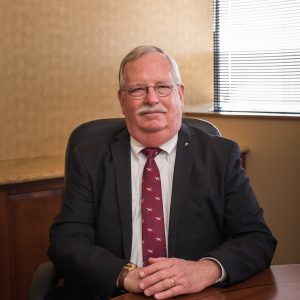 John D. McLaughlin, Jr.
// Of Counsel
Jack practices primarily in the area of commercial bankruptcy and litigation but has broad based legal and trial experience. Prior to becoming of counsel to Ferry Joseph, he was a partner at Ciardi, Ciardi & Astin, and special counsel in the restructuring and bankruptcy department of Young, Conaway, Stargatt & Taylor.
He also served as a senior staff attorney to the United States Trustee and is a recipient of the Director's Award for Excellence in Legal Advocacy from the United States Justice Department. He is a member of the mediation panel of the U.S. Bankruptcy Court for the District of Delaware. Jack participates as a pro bono lawyer for the Military Assistance Project, for Delaware Volunteer Legal Services and as a guardian ad litem for the Office of the Child Advocate and has lectured at both the Delaware Law and Temple University Law Schools. He held the rank of captain in the United States Army and served in a number of assignments both domestically and abroad. He is active in multiple roles as a Boy Scout leader, with over thirty years of scouting experience, and serves on the Archdiocese of Philadelphia Catholic Committee on Scouting.
ADMISSIONS
Delaware
Pennsylvania
Supreme Court of the United States
United States Court of Appeals for the Third Circuit
United States Court of Appeals for the Armed Forces
United States Court of Appeals for Veterans Claims
United States District Court for the District of Delaware
United States District Court for the Eastern District of Pennsylvania
United States District Court for the Middle District of Pennsylvania
United States Department of Veterans Affairs
EDUCATION
J.D. cum laude, Delaware Law School, 1985
M.S., Florida Institute of Technology, 1979
B.A., University of Virginia, 1975
PROFESSIONAL MEMBERSHIPS
Delaware State Bar Association
Delaware Bankruptcy Inn of Court
Friendly Sons of Saint Patrick of Philadelphia
Saint Patrick's Day Society, Wilmington, Delaware
Knights of Columbus
Pi Kappa Phi
Boy Scouts of America
Archdiocese of Philadelphia Catholic Committee on Scouting, County Chairman
HONORS
Phi Kappa Phi
Phi Delta Phi
Director's Award for Excellence in Legal Advocacy, United States Trustee Program, United States Department of Justice
Silver Beaver Award, Boy Scouts of America
Saint George Emblem, National Catholic Committee on Scouting
Service to Children Award, Delaware Office of the Child Advocate
Areas of Practice
//
Bankruptcy Law, Commercial Litigation, Commercial Bankruptcy, Mediation
Contact
//
(302) 575-1555