About FJ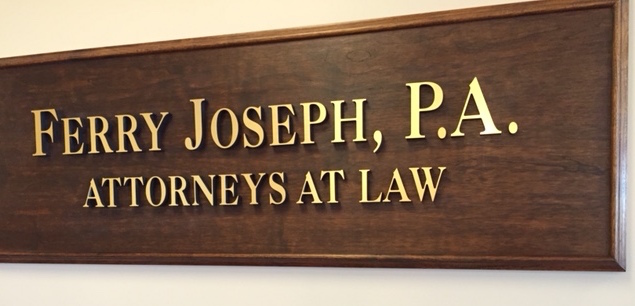 Founded in 1990, Ferry Joseph is a Delaware law firm with a varied practice including: Litigation, bankruptcy and reorganization (including Delaware Preference Actions), probate, trust and guardianship litigation, elder law, personal injury, negligence, business, commercial, criminal, family and collection law. Our clients include: Fortune 500 companies, states, cities, counties, unions, small and large businesses, law firms, individuals and families.

Our goal is to provide skillful, efficient and cost effective services to our clients. To better achieve that goal, we utilize the resources and state of the art technology of a large firm while maintaining the personal service and value of a small firm. We have three convenient office locations. Our Wilmington office is located in the same building that houses the United States Bankruptcy Court and Clerk's offices for the District of Delaware. Our Georgetown office is located less than one block from the town center and the Sussex County Courthouses.
We offer more areas of practice to better serve our clients.
We're here for you.
Our Services
Litigation
//
At FJ, we fully believe in the virtues of the use of effective negotiation and various alternative dispute resolution in an effort to avoid or, at least, minimize our clients' exposure to litigation.  However, in matters where litigation is necessary, we have experienced attorneys who will skillfully represent our clients' interests through all phases of litigation.
Collectively, our attorneys handle matters in all State and Federal Courts throughout Delaware.  Our attorneys prosecute and defend litigation cases and serve as court appointed counsel and local counsel to out of state firms.  The primary areas of litigation we handle include: general commercial disputes; will contests and other estate or trust litigation; guardianship actions; partition actions; commercial bankruptcy, personal injury, medical malpractice, nursing home neglect/abuse, elder abuse, neglect, exploitation; DUI's; criminal matters, family law, worker's compensation; general negligence; corporate/business disputes; employment disputes; real property disputes; collections; contract disputes; and appeals.
As having guided numerous clients over the years through the difficulties and intricacies of litigation we understand the stress they are under and the ultimate toll litigation can take.  Our attorneys strive to achieve the best result attainable in the most cost effective manner.
Corporate Bankruptcy
//
Bankruptcy Law is a multifaceted and diverse area of practice.  At FJ, our attorneys have the experience and substantive knowledge to navigate our clients through the complexities inherent in bankruptcy law.  Over the past twenty years, our attorneys have acted as lead and local counsel to debtors, creditors (secured and unsecured), official committees, Chapter 7 trustees, plan administrators, litigation trustees and liquidation trustees in numerous cases in the United States Bankruptcy Court for the District of Delaware.  Our clients include Fortune 500 companies, states, cities, counties, municipalities, unions, small and large businesses, insurance companies, banks, law firms, trusts and individuals.
Our attorneys routinely handle case administration, case monitoring, filing claims and various types of bankruptcy litigation including, but not limited to, seeking relief from the automatic stay, prosecuting and defending preference actions, claims objections, reclamation claims, administrative claims, asset sales, tax issues, exclusivity and issues related to plans and disclosure statements.
Trusts, Estates & Probate
//
At FJ, our group of experienced attorneys provide a full service approach to handle all of our clients' trusts, estates and probate needs.
Wealth management and estate planning are important issues for all everyone to consider.  Our attorneys work with our clients to determine the best strategy and then prepare all of the necessary documents to achieve their goals.  In addition to drafting new estate plans, we also review our clients' existing estate plans and related documents and will update or revise the same when required.
Our services do not stop once the documents are signed…our attorneys also represent our clients in connection with trust administration and/or probate.  We represent trustees, executors, personal representatives, beneficiaries and creditors throughout the administration process.
We round out our services by representing our clients in a wide array of litigation that may develop in relation to a trust, estate or estate planning documents.  Our attorneys regularly handle litigation involving will contests, caveats, exceptions to inventories and/or accountings, removal of fiduciaries, demands for accountings, pursuing or objecting to claims, terminations of trusts, invalidating trusts, compelling distributions, actions for instructions, reformation of documents and other conflicts as they arise in this area.
Elder Law
//
Elder Law essentially concerns the complex legal issues often faced by seniors as they age.  Such issues can fall within a wide range of practice areas.  At FJ, we have experienced attorneys who are able to offer a full complement of services specifically tailored to meet the needs and concerns of our senior clients and their families.
Our attorneys routinely provide services related to Medicaid planning, veterans' benefits planning, guardianship actions, elder neglect and abuse, estate planning through the use of wills, trusts and other estate documents, the preparation of Miller Trusts and Special Needs Trusts, planning for incapacity through the use of durable powers of attorney, advance health care directives and related documents and trust and estate administration.
Additionally, our attorneys handle litigation concerning the above matters plus breaches of fiduciary duties, convenience accounts, partition actions and removal of fiduciaries, all of which can also fall into this broad practice area.
Personal Injury
//
Many issues arise when someone is injured as a result of another person's negligence.  Not only must the immediate ramifications of his/her injuries, such as lost wages, medical bills, prescription drug costs and rehabilitation expenses be addressed, but the pain and suffering associated with the injury and permanent disabilities must be considered as well.  At FJ, our personal injury attorneys have extensive experience in guiding our clients through all of the complexities that arise after an injury.  Whether the injuries were the result of a car accident, a slip and fall, premises liability, dog bites or other hazards, our attorneys will zealously represent our clients from pre-filing settlement discussions through trial, if necessary.  Our goal is to protect our client's rights and secure the largest possible recovery they deserve.
Worker's Compensation
//
When someone is injured while on the job, it is important to have an experienced attorney who understands the nuances of handling a worker's compensation claim to protect their interests.  At FJ, our attorneys have the experience and substantive knowledge of the applicable laws and procedures to pursue the maximum amount of benefits due such as lost wages, payment of medical bills, vocational rehabilitation and payment for any permanent impairment.  We guide our clients through all stages of pursuing a claim, from the initial notices to attendance at Industrial Accident Board hearings, appeals and, if necessary, through the Delaware State Courts.
Medical Malpractice
//
Medical malpractice occurs when an injury results from a medical professional's failure to exercise the level of care, skill, or diligence exercised by other professionals with the same or similar training and can arise from a variety of negligent, reckless, and intentional conduct.  At FJ, our attorneys guide our clients through the complexities and uncertainties that often result in pursuing a medical malpractice claim.  When our clients have sustained injuries due to medical malpractice, we strive to obtain compensation for pain and suffering, inability to work, medical bills, ongoing disability and long-term medical care needs.  Our approach is to skillfully and aggressively represent our clients through all stages of litigation from pre-filing information gathering and settlement negotiation through trial to achieve the best result attainable.
Medical Malpractice
//
Our insurance defense attorneys provide representation to employers, insurance carriers, self-insurers, counties, municipalities and third-party administrators with respect to the defense of worker's compensation, personal injury, premises liability and general negligence claims through all stages of dispute resolution, litigation and appeals.  At FJ, we understand the particular needs and concerns of our insurance defense clients.  We offer our clients a wealth of experience and expertise, while providing services in an effective, reasonable and cost-efficient manner.
Corporate/Business Law
//
Delaware is home to thousands of businesses, including half of all publicly traded companies and over sixty percent of fortune 500 companies.  From conglomerates to mom and pops, Delaware is a preferred venue for forming a business for many reasons such as the flexibility and sophistication of Delaware's corporate and business laws; the consistency and influence of Delaware's Court of Chancery; a Division of Corporations offering efficient and contemporary services; and generally a business friendly environment within Delaware's state government.
At FJ, we assist our clients with many of their business/corporate needs.  Our attorneys provide counseling to help our clients determine the entity best suited for their enterprise.  Once an entity type is determined, our attorneys further assist our clients with formation or incorporation and drafting the various documents necessary to get their business off and running.  We are also available to assist with issues which arise after the formation process including but not limited to review and revisions of existing documents, opinion letters, governance and dissolution or winding up of businesses.  Additionally, our attorneys regularly serve as lead and local counsel to our clients in various business disputes.
General Commercial Law
//
As a full service law firm, at FJ, we are available to represent our clients in connection with an array of general commercial transactional or litigation matters.  Our attorneys regularly assist clients in drafting and negotiating contracts, leases and other agreements; handling employment issues, such as, non-competition or non-disclosure agreements; reviewing existing contracts, leases and agreements with regard to our clients' rights and responsibilities under the same; and litigating various business  or contract disputes.
Collection Law
//
Over the past 20 years many of our clients have relied on our creditors' rights attorneys to obtain payments on delinquent debts.  Whether our representation involves simply sending a demand letter or full litigation and execution on a judgment, we are equipped to meet our clients' needs every step of the way.  We represent businesses of all sizes across many different industries.  Our attorneys are experienced with litigating in the state and federal courts throughout Delaware.  Additionally, once a judgment is obtained our attorneys are well versed in Delaware law regarding the options available for execution.
DUI/Misdemeanor Criminal Defense
//
At FJ, our attorneys are experienced in assisting our client's when they are faced with serious legal issues.  A criminal conviction can have a major effect on an individual's life with possible far reaching consequences and future ramifications.  Our attorneys provide representation to adult and juvenile clients in connection with DUI's, assaults, alcohol related offenses, resisting arrest and other misdemeanor offenses as well as certain felony offenses.  We understand the emotional, financial, and personal impact that criminal charges can have on our clients.  Our attorneys strive to provide our clients with an effective and comprehensive defense to protect their rights and to achieve the best possible outcome.
Alternate Dispute Resolution
//
While our attorneys here at FJ frequently handle various types of litigation, we always remain mindful of the toll it takes on our clients.  The traditional litigation process can often be extremely costly, time consuming and unpredictable.  Our attorneys have found that many of the legal matters that our clients are involved in can be better addressed through various forms of alternative dispute resolutions which tend to be more cost effective and flexible.  Moreover, it is commonplace for courts to require litigants to participate in some form of ADR during the course of litigating their cases.
Our attorneys have significant experience in navigating our clients through the ADR process including mediation, arbitration, general settlement negotiations and other methods as appropriate.  In addition to representing clients in the ADR process, our attorneys also regularly serve as mediators, arbitrator and independent fact finders in many matters.
Local Counsel Representation
//
With three convenient locations in Delaware, our attorneys regularly serve as local counsel to out-of-state clients and their counsel in all Delaware state courts and federal trial and appellate courts, including the U.S. Bankruptcy Court the U.S. District Court for the District of Delaware and the U.S. Court of Appeals for the Third Circuit.
We offer substantial experience with serving as local counsel in a wide range of matters such as: corporate bankruptcy cases, including case administration, avoidance and preference actions, claims litigation, stay relief and plan and disclosure issues; Chancery Court matters, including corporate/business litigation, wills and trusts administration and litigation and elder law matters; and general commercial litigation.